First Aid
First aid and the realistic depiction of injuries, states and diseases
First aid is one of the activities that are especially important at the Red Cross of Serbia. It is the activity that is associated with the Red Cross throughout the world, and by which the RC is recognized.
First aid is the act of saving a life, but it is also a reflection of humanity, altruism and sense for the needs of others.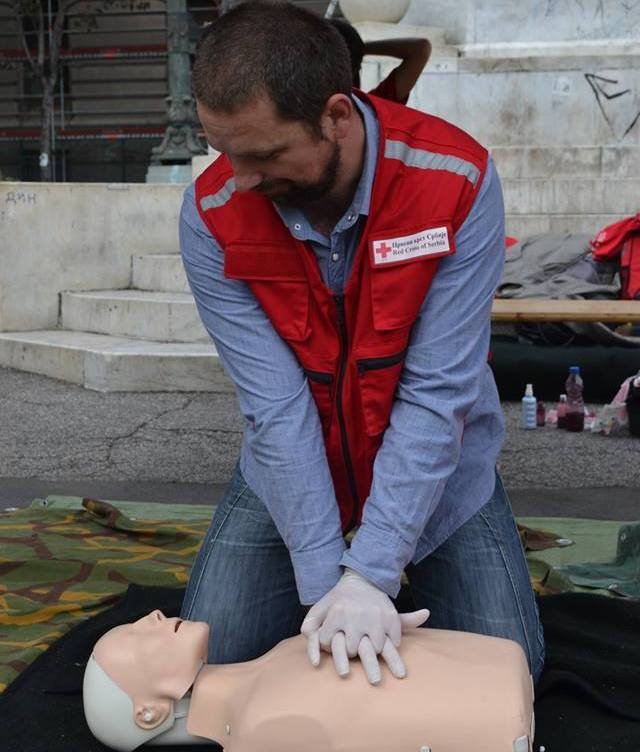 The first aid program consists of:
First aid training of citizens and volunteers of the Red Cross 
Lending first aid teams for securing public gatherings, sports events and other mass events
Promotion of first aid and preventative measures against accidents and injuries (especially as part of traffic safety and occupational safety)
Training of lecturers and instructors of the Red Cross first aid program
Publishing literature about first aid: handbooks, instructions and guides for first aid, aimed at different target groups and uses. 
First aid of the Red Cross is regulated by the Law on the Red Cross of Serbia (articles 6,7 and 10 of the Law), as an entrusted public authorization, as well as a service that we offer to all legal entities and persons.
Each year over 30,000 citizens learn basic first aid at the Red Cross, and they are educated by 1165 trainers and instructors from the network of the Red Cross of Serbia. We hope that the number of those who take part in the training will increase each year. 
Each one of us might be in a situation where we require first aid, and each one of us can learn how to give first aid. Special attention is given to those population categories that are at a higher risk of injury due to their work, sports training or other reasons.
You too can become our volunteer!