International Human Rights Day
---
21/12/2020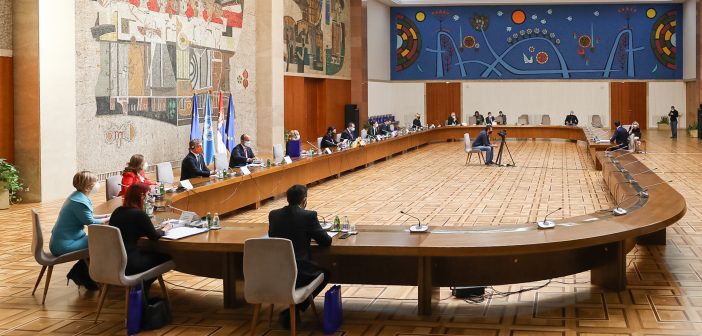 To mark the Human Rights Day, 10 December, in the Palace Serbia a conference was organised entitled "The impact of COVID-19 pandemic on human rights" with the following speakers: Gordana Čomić, Minister, Ministry for Humand na dMinority Rights and Social Dialogue, Françoise Jacob, Resident UN Coordinator  in Serbia, H.E. Sem Fabrizi, Head of the EU Delegation in Serbia, Tobias Flesenkemper, Herad of Mission of the European Council in Belgrade, Ivica Dačić, Chairperson of the National Assembly of the Republic of Serbia, Ana Brnabić, Prime Minister of the Government of the Republic of Serbia, Branko Ružić, Minister, Ministry of Education, Science and Technological Development, prof. dr Darija Kisić Tepavčević, Minister, Ministry of Labour, Employment, Veteran and Social Affairs, Radomir Dmitrović, Minister, Ministry for Family care and Demographics, Brankica Janković, Commissioner for Protection of Equality, Jelena Stojanović, Deputy protector of Citizens.
Natasa Todorovic, the Red Cross of Serbia expert and a representative of the HumanaS network, spoke about the rights of older persons. She pointed out that not providing essential support during the crisis is a violation of human rights, and that is why targeted, multisectoral and coordinated action is needed. Without such action, the already existing inequalities in society can be deepened even more. We need good quality age-segregated data collection on the needs of different categories of older persons, which may enable us to create effective public policies and support services, because the fact is that not all older people have the same support needs, nor they are same at 65 or 75 or older. There is also a difference if you live in Belgrade or in the south of Serbia. During COVID-19 crisis, older persons reported that the information was not clear enough, so it is necessary to provide access to information to all categories of older persons.
Access to social and health care services has been reduced, and older persons also feared they would not receive adequate protection. It is necessary to develop more services in the community, ensure more home visits by physicians, to develop a system of long-term care services, but to also work on preventive programmes. Better access must be provided to mental health services, because the right to health includes the right to mental health. Enable digital inclusion, but leave room for  face-to-face support for those who are unable to improve their digital skills and receive adequate service over the internet.
"We must fight ageism and prejudice about older persons as passive receivers of support, as sickly persons who never contribute anything to the society, because stereotypes are just a prelude to discrimination and violence against older persons. At the same time, we must recognise contribution of older persons to family, community and the society, as well as that of the informal caregivers. Older persons' quality of life would significantly improve if a new United Nations Convention on the Rights of Older Persons was adopted" concluded Natasa Todorovic in her speech.