Meeting of the Network For Ageing with Dignity
---
25/12/2018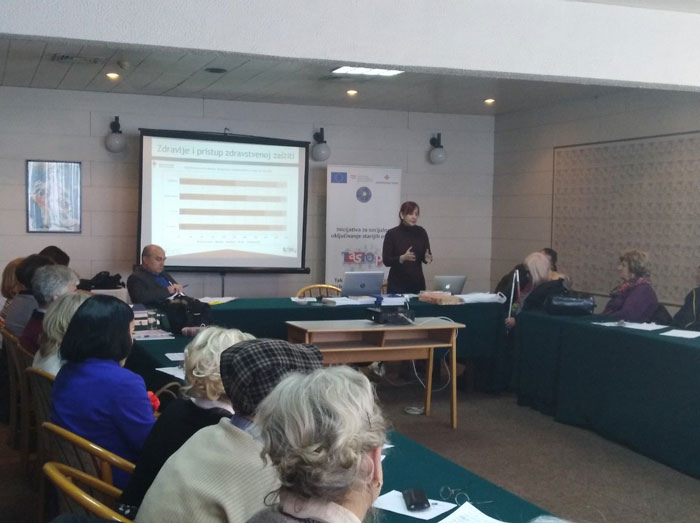 As part of the regular project monitoring activities in the Taking Action on Social Inclusion of Older People, Natasa Todorovic, the Red Cross of Serbia representative travelled to Sarajevo to participate in the meeting of the Network For Ageing with Dignity on 20 and 21 December. This meeting was organised by the Bosnia and Herzegovina project partner, Association Osmijeh. This meeting was an opportunity for the Bosnia and Herzegovina Network members to learn more about the project achievements at regional level as well as the project results in Serbia and the implementation of microprojects. The Red Cross of Serbia representative presented the achievements over the three year implementation of the project.
The Network members also had the opportunity to be presented with the preliminary results of the research conducted in the project and with a refresher presentation about advocacy based on human rights and evidence.
An important part of the meeting was familiarisation with the Sustainable Development Goals and the UN Agenda 2030 with an emphasis on the necessity of the civil sector being included in these processes so that no one is left behind and that older people are included in the processes and recognised in the Goals. At the end of the meeting, several of the organisations implementing microprojects in Bosnia and Herzegovina presented their activities, challenges and achievements. In Bosnia and Herzegovina there are 13 microprojects being implemented in total at the moment, all of them small local initiatives to improve the quality of life of older people and their inclusion in the society.
The Taking Action on Social Inclusion of Older People project is coordinated by the Red Cross of Serbia in five countries of the region with support provided by European Union, Austrian Development Agency and Austrian Red Cross.