Older People in Rural Areas
---
23/12/2016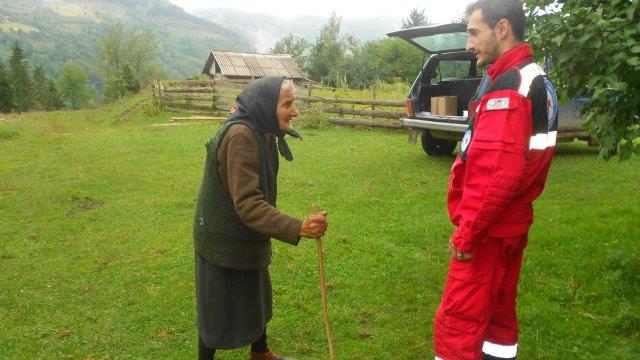 "Older People in Rural Areas" is a publication containing the results of a research study done by the Red Cross of Serbia in cooperation with Ms. Brankica Janković, Commissioner for Protection of Equality of the Republic of Serbia, with support provided by the United Nations Population Fund (UNFPA) Belgrade office. The research was conducted by Brankica Janković, Gradimir Zajić, Milutin Vračević and Nataša Todorović.
The objective of the research study was to assess the status of older people living in rural areas in Serbia. To explore the quality of their living, measure the accessibility of services related to healthcare, social welfare and transportation as well as to assess what are their greatest needs and how the society could improve their status.
The research was done between August and October 2016 across Serbian territory using a representative sample of 685 people over the age of 65 living in rural areas. In the north (Belgrade, Vojvodina province) the research involved 198 persons whereas in the Southern parts of the country (Šumadija, Western Serbia, Eastern Serbia, Southern Serbia) 496 persons over the age of 65 were involved.
Global population ageing is a phenomenon that has been discussed a lot lately because its consequences cannot be ignored any more. Population ageing demands above all adequate response in new public policies that will ensure older people lead good quality, productive lives. Alongside population ageing the other irrefutable demographic trend that has already defined 21 century is urbanisation – migration of population to urban centres and depopulation of countryside and rural areas.
Approximately a quarter of European population lives in rural areas today. The available data shows that in most countries population ageing is faster and more pronounced in rural than in urban areas. In many European countries the share of people over the age of 65 in overall population is higher in rural than urban areas.
Unfortunately, globalisation, the modern way of life, internal migration (from countryside to cities) and the changes in family structures have lead and are leading to increased isolation of older people living in rural areas. These people are often forgotten and left behind. All the countries facing this problem are trying to work out ways to ensure access to services of healthcare and social welfare as well as adequate transport and other services to this population.
Speakers at the presentation:
Prof Dr Dragan Radovanović, President of the Red Cross of Serbia
Brankica Janković

, Commissioner for Protection of Equality of the Republic of Serbia

Marija Raković

, United Nations Population Fund (UNFPA)

Gradimir Zajić

, Sociologist

Nataša Todorović

, Red Cross of Serbia
26 December 2016 godine, 11 AM
MEDIJA CENTRE, Belgrade