Photo Exhibition "Promotion of intergenerational cooperation"
---
27/05/2023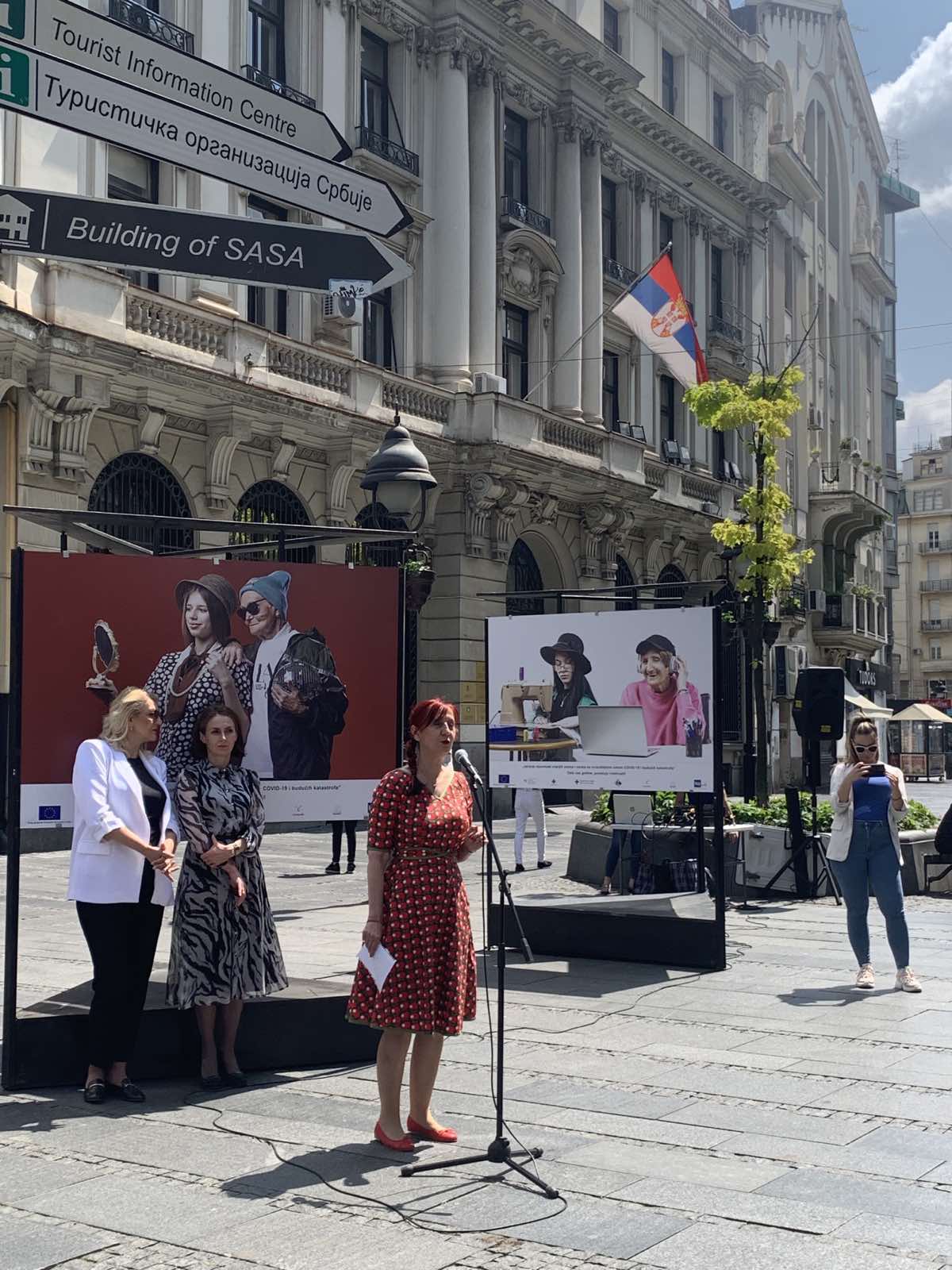 As part of the project "Strengthening resilience of older persons and persons with disabilities during COVID-19 and future disasters", a photo exhibition "Promotion of intergenerational cooperation" was opened on 25 may 2023 in Knez Mihailova street in Belgrade, in front of the Serbian Academy of Sciences and Arts.
The photo exhibition itself contributes to raising the awareness of the general public about intergenerational solidarity and problems that affect all generations, with a special focus on older persons in the post-COVID period. Through the project activities, the mutual connection of young persons and older persons, their understanding and improvement of communication was established, which created the conditions for working on emotions, reducing the feeling of loneliness and preserving the mental health of young persons and older persons. The photos depict the idea of ​​establishing intergenerational cooperation within the project implemented by the Center for Support and Inclusion HELP NET, which is one of 62 civil society organizations in the region that implement microgrants. The Red Cross of Serbia coordinates the project, which is financed by the European Union, with the support of the Austrian Development Agency and the Austrian Red Cross.
The following speakers participated in the opening of the exhibition: Gordana Milovanović, president of the Center for Support and Inclusion Help Net; Nataša Todorović, expert associate and psychologist at the Red Cross of Serbia and coordinator of the HumanaS network; Brankica Janković, Commissioner for the Protection of Equality.
Nataša Todorović said at the opening of the exhibition: "With this exhibition, we want to draw attention to understanding and empathy through photographs in a cheerful way. These photos are an invitation: let's try and walk in other people's shoes. And this is precisely the basis of intergenerational intelligence, the ability to understand other generations' perspectives, their outlook on life, the circumstances in which they live. In order to understand others, we need to get to know them and have friends from different generations. Understanding, empathy and friendship are the three key words on our way through intergenerational solidarity".