VOLUNTEERING AS A LIFESTYLE
---
14/01/2021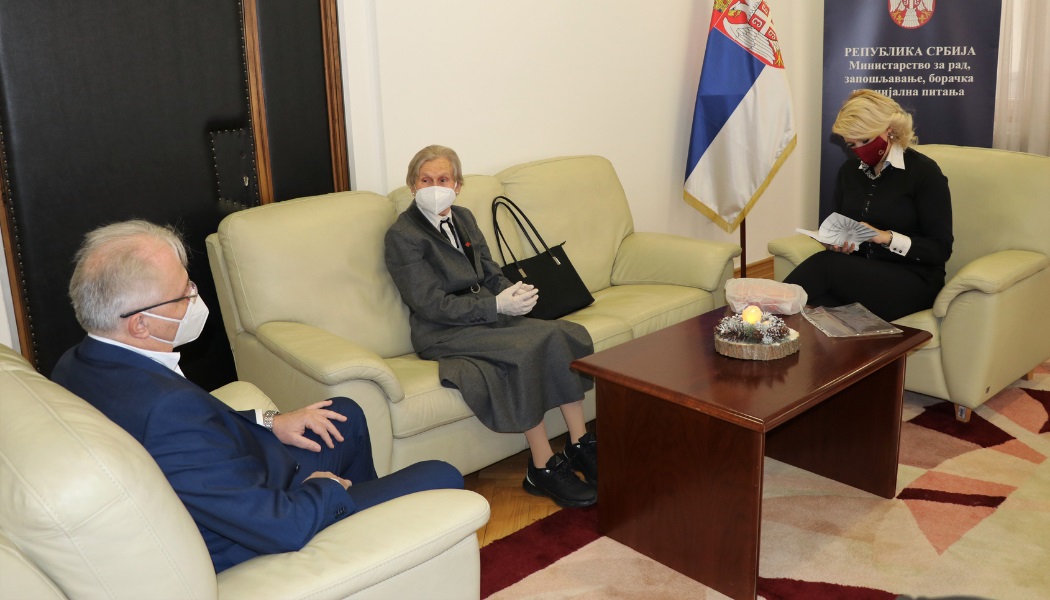 Red Cross of Serbia volunteer Danica Šmic (83) visited the Ministry of Labor, Employment, Veterans and Social Affairs following the invitation of Minister Kisić Tepavčević. The reason for the visit was the year of solidarity and volunteer work of Ms. Šmić, which never once stopped during the pandemic. In the conversation, they agreed that if we want to live in a better and more humane society, volunteering should be an integral part of every person's life.
The Minister and Ms. Šmic also talked about the contribution of volunteers in difficult situations, especially during the coronavirus epidemic, which affected everyone. The most famous Red Cross volunteer always points out that "everyone should find a volunteer in themselves and repay to the community through volunteering what was invested in them".
The meeting was also attended by the President of the Red Cross of Serbia, Prof. Dr. Dragan Radovanovic, who said that Danica Šmic is a member of the telephone circle, helping older persons, which was part of the Red Cross of Serbia project before the COVID-19 epidemic, but which proved to be a good platform, especially during the pandemic. Radovanovic also stated that from March to the end of December last year, over 300,000 calls to the Red Cross of Serbia were registered due to the need for various forms of assistance.
The Red Cross of Serbia has more than 1,000 volunteers over the age of 65 in its programs.