Intergenerational Solidarity between the Family and the State
---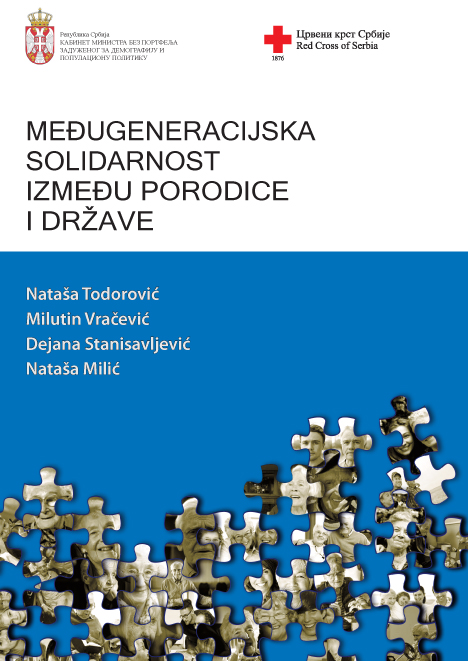 Intergenerational Solidarity between the Family and the State is a research study done in 15 Serbian municipalities with 1,423 participants of different generations.
The questionnaire used to collect information is a version of the questionnaire originally developed in the PASIS project of the Center for Research and Study of Aging at the University of Haifa, Israel.
The questionnaire has 15 segments: demographics (7 questions), house and environment (13 questions), socioeconomic status (10 questions), health and functional ability (13 questions), help and services (15 questions), children (32 questions), parents (32 questions), other family (8 questions), social capital (4 questions), values (14 questions), preferences (5 questions), coping (5 questions), quality of life (40 questions) and income (2 questions). The results include:
Norms and ideals related to care for older persons
Intergenerational solidarity in the family
Exploration of conflicts and ambivalence
Support provided by family and by services
Quality of life
Majority of participants (82%) confirmed emotional closeness and (79%) good quality of communication with children. Intensive intergenerational exchange was also recorded with all generations giving but also receiving time, goods and services. For example, exchange of emotional support is nearly identical in both directions (66.9% of adult children provides it to their parents and 64.4% receive it), 46.5% of adult children assist their parents with house chores while 37.5% receive this kind of assistance from them. It is worth underlining that when it comes to financial support, significantly more adult children receive it from their parents (46.7%) than they give it (36.2%) which debunks the myth of older persons being economic burden for their families and the society.
Authors: Natasa Todorovic, Milutin Vracevic, Dejana Stanisavljevic and Natasa Milic.