On No Man's Land – Gender based violence against older women (65+) in the Republic of Serbia
---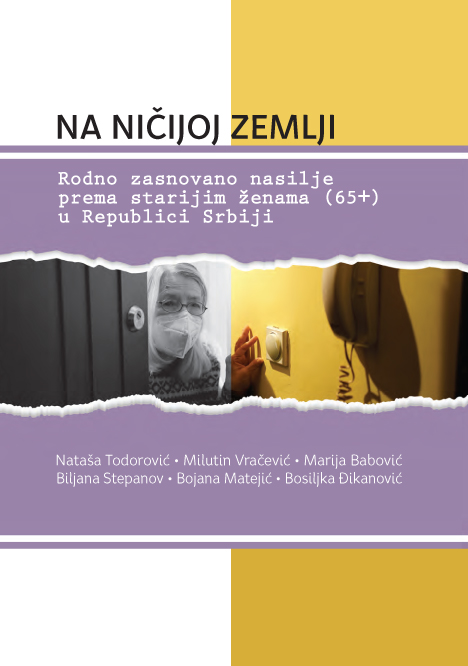 "On No Man's Land – Gender based violence against older women (65+) in the Republic of Serbia" is a publication in the project "Empowerment of older women: Prevention of violence through changing social norms in Serbia (EmPreV)" supported by European Union and Austrian Development Agency.
The aim of this study is to present the situation in terms of the prevalence, characteristics and consequences of gender-based violence against older women, as well as the extent to which they address various institutions and organizations in need of protection from violence, and how this system responds to their needs. The research consisted of quantitative and qualitative work. The quantitative part used data from the research on the safety and well-being of women in Southeast and Eastern Europe, which was conducted in 2018 with the support of the OSCE Mission to Serbia. The qualitative part consisted of 18 focus groups in which 157 women from three different generations participated. Young women were up to 30 years old, middle-aged women from 31 to 64 years old, while the group of older women consisted of those over 65 years of age. Interviews were also conducted with 20 professionals from the Centres for Social Welfare and 21 professionals working in the Red Cross of Serbia.
The analysis focuses on older women in Serbia (65 and over), but to the extent possible it seeks to consider specific experiences and opportunities in accessing the protection system of different groups of women of this age, depending on the place where they live, education, socio-economic status, disability or other characteristics that could increase or decrease the risks of violence, as well as affect their access to protection services.
This research showed that in Serbia, 16% of older women aged 65 to 74 experienced some form of violence after reaching the age of 65. This type of violence is quite covert, victims rarely decide to report it, in our sample only one older woman reported being targeted by abuse. Older women choose to live violence for various reasons, out of fear, shame, economic dependence, while at the same time strong patriarchal patterns are present in the society. Since turning 15, 40% of women have experienced some form of violence by their current or former partner, while in the previous 12 months (after reaching the age of 65), 7.7% of women have had that experience. The most prevalent form is psychological violence, which was experienced by 38% of women over the age of 15 and 7% of women during the last 12 months (after turning 65).
In further work on prevention, it is necessary to educate older women about violence and various forms of violence, risk factors, as well as about the ways in which all parts of the system act when reporting violence. It is necessary to provide psychosocial support services to older women. It is necessary to include in the continuous education of relevant professionals dedicated parts that refer to the specifics of violence against older women, as well as to enable better coordination of all actors at local level.
It is also necessary to work on raising public awareness about violence against older women through various campaigns, and a very important activity is the fight against discrimination and changing the image of older women in order to promote their well-being in the society and their communities, and their image as active members of the society who contribute to their families, community and society.
Authors: Natasa Todorovic, Milutin Vracevic, Marija Babovic, Biljana Stepanov, Bojana Matejic i Bosiljka Djikanovic.